THE NATURAL ALTERNATIVE TO PAIN RELIEF
Incrediwear's wearable anti-inflammatory therapy is designed to reduce pain and swelling, promote increased function, and accelerated recovery from injuries and surgical intervention. Our innovative Braces and Sleeves are all FDA registered and listed, and are compliant with all applicable FDA regulations. All Incrediwear products are approved for purchase by using flex spending or health saving account funds.
HOW DOES INCREDIWEAR WORK?
Incrediwear products increase circulation to reduce inflammation & swelling, relieve pain, restore mobility, and accelerate recovery. Unlike compression products, Incrediwear products do not need to compress to work. Instead, our technology incorporates semiconductor elements within our fabric that releases negative ions when stimulated by body heat. The negative ions activate cellular vibrations that increase blood flow and speed. Increasing circulation helps bring more oxygen and nutrients to the target area, which optimizes the body's natural healing process and accelerates post-operative recovery.
INCREDIWEAR VS. COMPRESSION
A common misconception is that our products use compression, but this is not the case. Incrediwear uses semi-conductor technology embedded into the fabric of our products to accelerate blood flow and speed up the body's natural healing process.
Learn how Incrediwear is becoming the future for the standard of care for post-surgical procedures in an overview of our products, doctor testimonials, scientific analysis, and a showcase of incredible results that our products bring to our customers. Incrediwear's Medical Catalog reveals the dynamic benefits of using our wearable anti-inflammatory therapy products that are scientifically proven to increase circulation. As a product regulated by the FDA, Incrediwear's wearable technology is non-invasive and incorporates semiconductor elements within the fabric, creating cellular vibrations to help bring vital oxygen and nutrients to the target area. This effect works to increase circulation to reduce inflammation & swelling, relieve pain, and accelerate recovery.
---
Dr. Rahul N. Desai, Musculoskeletal Radiologist & Founder of Restore PDX
"There are a few game-changing adjuvant therapies in the realm of regenerative medicine, and for my practice, Incrediwear has been one of them."
EFFECT OF GERMANIUM-EMBEDDED KNEE SLEEVE ON OSTEOARTHRITIS OF THE KNEE
The Orthopedic Journal of Sports Medicine, Katherine Marino, MBChB, MSc*, Rachel Lee, MBChB, Paul Lee, MBChB, MFSEM, MSc, PhD, FEBOT, FRCS
The study, which was published in The Orthopedic Journal of Sports Medicine, was conducted in a hospital in the United Kingdom over the course of 6 months. The findings showed a significant decrease in pain for people who suffer from OA from the continued use of germanium-embedded knee sleeve (the technology that Incrediwear uses to make recovery and pain relief a reality).
Alternatives to surgery are preferred from both the patient and practitioner perspective. However, after years of trying to decrease pain it can feel like a patient's only option. This study showed that it is possible to delay or avoid surgery for OA pain. However, the results are best when the nonoperative pain management is done at early sign of the symptoms.
"It was found that knee braces are a cost-effective measure that can delay the need for surgery over an 8-year period and could potentially replace the need for surgery altogether."
For the patients in the study, pain relief can be achieved as easily as wearing a knee sleeve consistently. At a fraction of the price of surgery, the Incrediwear Knee Sleeve is an effective nonsurgical treatment for knee pain.
"Patients with OA experience pain, decreased mobility and function, muscle weakness, and deterioration in ability to accomplish activities of daily living."
RESULTS:
✓ 41% IMPROVEMENT LYSOLM SCORE
✓ 51% IMPROVEMENT VISUAL ANALOG SCALE
✓ 63% IMPROVEMENT OXFORD KNEE SCORE
✓ EFFECTIVE TREATMENT OPTION FOR PATIENTS WITH LOW GRADE OS
STUDY REFERENCE: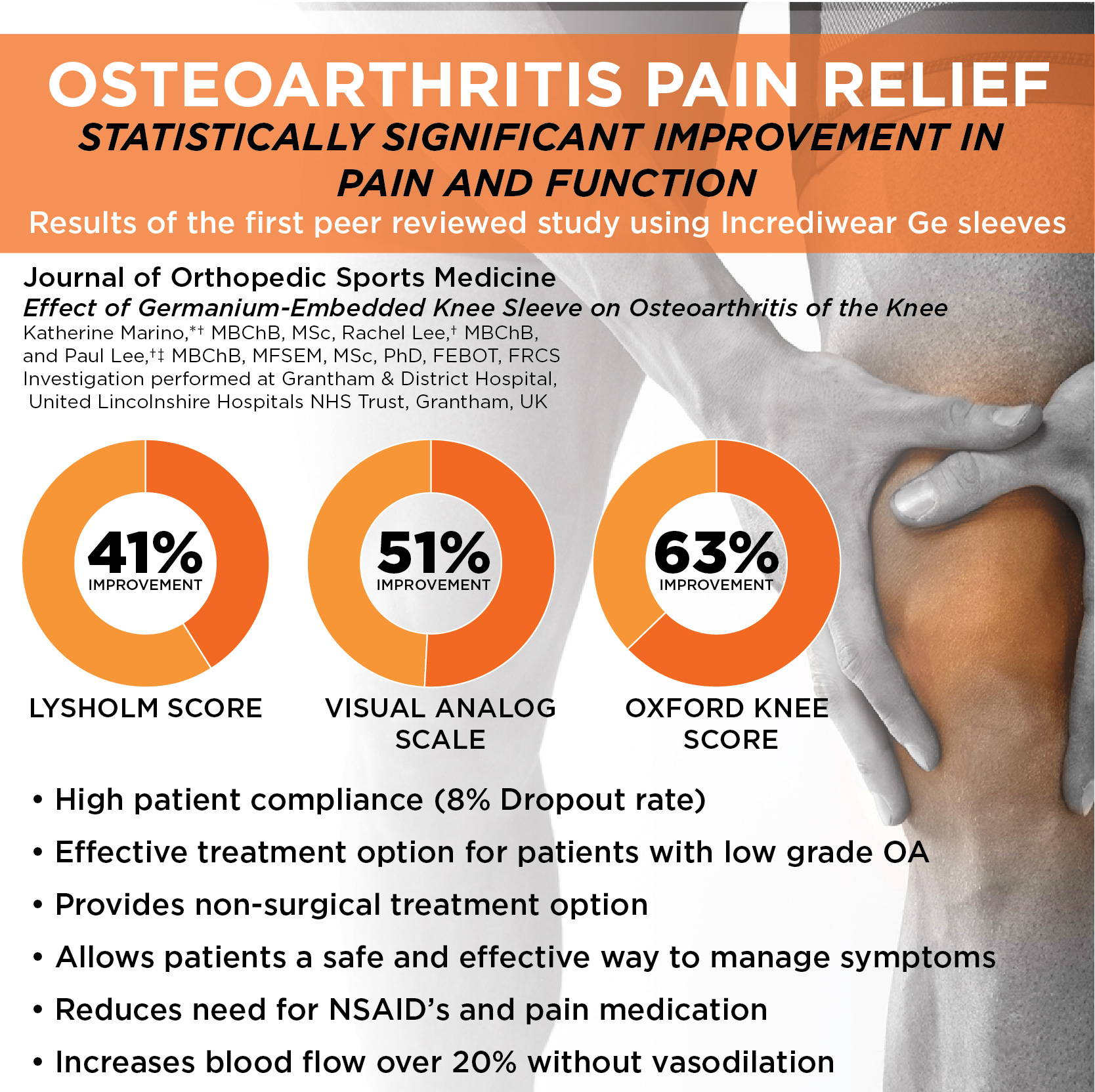 ---
CONTACT US TODAY TO LEARN MORE.
---