How do you wash your products?
Most Incrediwear products can be washed warm or cold, tumble dry low. Do not bleach, iron or dry clean. You can find "how to wash" instructions in every product description of our site.
How do I decide what size to get?
Look at the sizing chart in our recovery wear product descriptions. Our sizing of products comes a little small, so for example; if you are a size small, you may actually be a size medium in our recovery wear product line. So please check the size charts listed on our product descriptions for the correct sizing on your order.
Does Incrediwear have latex?
Yes some Incrediwear Products do currently have latex in them. We are looking for latex alternatives for the manufacturing of these products. The Elastic bands of these Products is the portion that contains latex.
The Products that contain Latex are:
Hip Brace
Shoulder Brace
Shoulder Brace - Last season.
How long does it take to work?
Some people notice an immediate difference in their pain or soreness. However, it usually takes about 20 minutes on average to notice a difference.
How long should I wear it?
You can wear our products for as long as you feel comfortable. All Incrediwear products can be slept in and can keep you feeling comfortable during the night. If any discomfort from wearing the product occurs, please remove it and get a good night sleep.
Is this compression? Is this copper? Does the Product have magnets?
Where can I buy your products?
On our website and retail stores worldwide.
Yes. For Canadian retailers hoping to carry Incrediwear products, please refer to one of our two Canadian distributors. Peak Performance or Sports Fleets Ventures. For purchases, please refer to www.incrediwear.ca.
Are you in any major chain stores?
Yes. Check our sites "Find Store" link in the footer menu. It takes you to a separate page to help you find a store near you.
Where are your products manufactured?
What are the stays in the knee brace?
The knee brace stays are fiber optic cables designed to keep the knee brace from bunching at the knee.
The stays are designed to prevent bunching at the knee. Some people find that they prefer the brace without the stays. We have had several customers report that they have cut out the stays. While we do not recommend cutting out the stays, some people have had success in modifying the knee brace in this way.
Have you had any customers complain of allergic reactions?
While this is very rare, we have received feedback from a small handful of customers developing reactions. Generally, the reactions were not directly related to the use of Incrediwear products. If you have had or are having discomfort from Incrediwear products, please contact us at info@incrediwear.com with a picture and explanation of the situation.
Where can I send my testimony?
Do you have any discounts?
We announce upcoming sales through our newsletter and on our Facebook page. We send our discount codes that last for limit times only
Do you have any product updates?
What is the difference between the Arm Sleeve, Elbow Sleeve, and Calf Sleeve?
The Arm Sleeve is designed to cover a larger portion of the arm, and for use during activities where a more snug and secure fit is required. The Elbow Sleeve is designed to focus more on the elbow area, to bring more support to the joint area. The Calf Sleeve is designed for a more snug fit, focusing on the calf area during activities where a more secure fit is required.
What type of payments do you take?
We take credit card payments (Visa, Mastercard, Discover, and American Express), PayPal payments, and installment payments by
Will the embedded elements wash out?
No, the elements are embedded during a process that occurs before the products are manufactured. The elements are embedded directly into the individual fibers of all of our products.
How long do the embedded elements remain active?
The embedded elements will be active for the life of the product.
What is the difference between the black and grey Knee Sleeve?
The black and grey Knee Sleeves are identical in composition and construction. We offer the product in two colors to provide customers with more variety.
Can Incrediwear products be worn over clothes?
For best results, our products should be worn in direct contact with the skin. However, our products can be worn over a thin layer of clothing if desired.
Where to buy a shoulder brace?
Buy the best quality shoulder brace from Incrediwear that can put an end to limited mobility problems. In addition, their shoulder braces are the most comfortable because of the semiconductor elements.
A hip brace, also known as a hip abduction brace, maintains the level of the hips and promotes safe healing. Effective hip brace products from Incrediwear holds the thighbone safely in the hip socket.
How to wear a knee brace?
First, choose the right knee brace from Incrediwear as per the size and then simply slide and center the knee brace on the knee cap.
What does the option to pay with installments on Shop Pay mean?
When checking out with Shop Pay, you now have the option to pay now or later. Paying in installments on Shop Pay allows you to split your purchase amount into 4 equal, biweekly installment payments—with 0% interest, no hidden or late fees, and no impact on your credit score.* In some instances, your first payment is due when you make your purchase; otherwise, your first payment is due 2 weeks after your purchase.
How does paying in installments on Shop Pay work?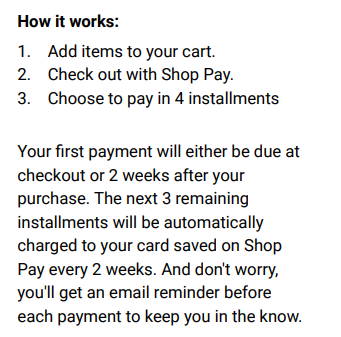 Which payments methods are accepted if I use the option to pay in installments on Shop Pay?
The installments option on Shop Pay is available on debit and credit cards.
Will my order be delayed if I check out with Shop Pay?
No. Your order will ship from our warehouse within 3-5 business days from the date of purchase. Active installment plans do not require completion before an order is fulfilled. The only exception to this is any item marked as a preorder, which will ship within the timeline stated on the individual product page.
Which purchases can I pay in installments on?
Purchases between $50-1,000 of any product with the Shop Pay Installments option on the product page can be purchased using this payment method.
My installments payment using Shop Pay was rejected - why?
Eligibility for and approval of Shop Pay Installments is managed by Shop Pay and Affirm. Incrediwear has no control over this process, but you should receive an email from Affirm detailing why your payment was rejected.
What happens if I partially or fully cancel my order that was paid in installments?
If we process a refund, the refunded amount will be returned to your original payment method within 3-10 business days, and your balance will be updated.
If your refund is less than your total purchase balance, it might not lower your next payment. Instead, you can expect fewer payments, a smaller final payment, or both.
If your refund is more than your purchase balance, the difference will be returned to your original payment method within 3-10 business days.
No, there are no late fees if you miss a scheduled payment.
Will this affect my credit score?
No, if you choose to pay in installments through Shop Pay, there will be no impact to your credit score. For Shop Pay installments, Affirm will not report to credit bureaus.
I have other questions about paying in installments on Shop Pay.